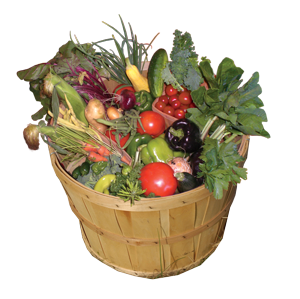 What is Community Supported Agriculture?
Community Supported Agriculture (CSA) provides a direct connection between the farmer and the consumer. The consumer typically purchases a "share" at the beginning of the season. This provides financial support for the local farm. The farmer then provides a weekly share of the farm's harvest to each member of the CSA. The amount of food each week varies as the harvest varies.
We grow food.
We tend and maintain the gardens.
You stop by once a week and pick up your basket of produce.
We are non-certified organic.
Our program is 18 weeks long beginning in June.
We grow 30+ varieties of produce from early lettuce, green beans and tomatoes to late season squash.
Your share each week will depend upon crop availability.
If you cannot pick up your share at the scheduled time, you MUST make alternate arrangements ahead of time. Otherwise, your share for that week will be forfeited. A call that day will do!
Join us for Fresh, Local, Wholesome Food! Download this years CSA Brochure to learn more about how you can become a member.
Member Contract
In exchange for my membership fee, Breezy Acres will provide a weekly share of vegetables dependent on availability from the beginning of June through the 18 week period. By entering your name in the signature field above, you are agreeing to this contract.
Deposits are welcome to guarantee your share. Payment due in full by June 1st.
Please keep in mind that all crops  are weather-dependent and we will do our best to keep you satisfied!